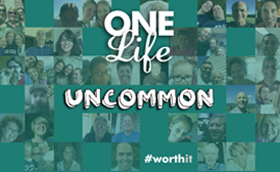 Can you feel it? Does it tug at the edge of your consciousness? We think of it as a longing to be noticed, but really it is a longing to be worth noticing. We long to live our one life in an uncommon way.
We are going to ponder and study seven moments in the one life of the most uncommon man who ever lived, Jesus. As we study his life we may discover not only a model, but a pathway to our own, one life uncommon.
The path isn't easy, but it's worth it.
Jesus faced agony of the cross, but you were worth it.
He lived an uncommon life so you could have an uncommon life.
One Life Uncommon #worthit
Update Required To play the media you will need to either update your browser to a recent version or update your Flash plugin.
A Church Without Walls
"We do not believe that material comfort is a worthy goal for a Christ-follower. We live for a dream bigger than the American Dream and inconvenience ourselves for the sake of those in need, locally and globally."
"We believe that the early church grew through an example of sacrificial generosity and supernatural grace, and so should we."
"We believe that everyone has a calling and we want to help you discover yours."
"We believe that if all we do is grow Calvary, we have failed. Our church is more than just Calvary. We love the whole church of the city."
"We believe that Church is not primarily an address, it's a people. You can cancel a worship gathering, but no one has ever been able to cancel the Church."