Staff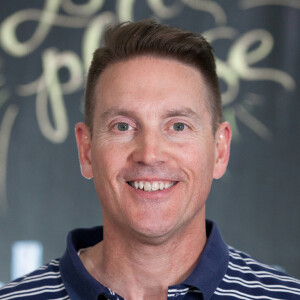 Stacy Sublett
Gathering Pastor, Calvary Harvest Fields
office: 814.238.0822 ext. 14
stacy@calvarysc.org
Stacy and his wife, Kim, have been part of Calvary since 1998. He and Kim want to help students become lifelong followers of Jesus. They believe the best way to lay a foundation of faith is through stronger families and integrating students into the life of the church.
Stac enjoys leading worship at Midtown and serving as the chaplain for the State College Spikes (the local minor league baseball team). Stac and Kim have a heart for adoption, adding four children to their family between January 2010 and October 2011.
They have nine children (Levi, Josie, Lilly, Isaac, Annabelle, Sadie, Charlie, Jase, and Zuzu) and they're pretty sure that the Lord is done adding to their family. They believe that life is best lived as a team.
Stac enjoys kayaking and outdoor life, playing and teaching guitar, good coffee, good conversations, and chicken. Stacy is absolutely convinced that God wants to transform our community, and that the Church (not simply a church) of the Centre Region has a pivotal role to play in that transformation!
Fun Facts
What place would you like to visit before you die?
Middle Earth. I've read The Hobbit and LOTR every year since my mom gave me the books at age 12. Yes, every year. No, I don't really like the movies. Yes, books are better. Always.

What's your dream car?
VW Karmann Ghia – my grandfather drove one.

What is your favorite season?
Whatever season it is right now is my favorite. Seriously, I love living in a place where they're all about evenly spaced.

What inspires you?
Stories of folks who overcome, who see the BIG PICTURE and sacrifice to reach their goals…and the promise of chicken.

If you had no limits, what would be your dream vacation?
We've never been out west, so something involving the Grand Canyon and Yellowstone. Though my wife would like me to redeem our Poconos honeymoon with a big-time island vacation.

What was your childhood ambition?
I wanted to be a baseball player. Or an astronaut. Or a fighter pilot. Or a baseball player on the moon…

How did you first come to Calvary? Why did you stay?
I was hired to be the youth pastor in 1998. We stayed because of the Church Without Walls vision!