Staff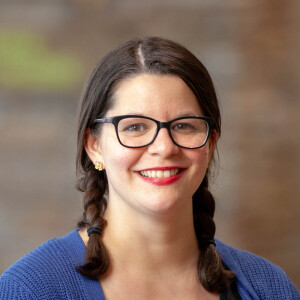 Kristin is originally from Greensboro, North Carolina where she grew up with her mom and younger brother, Will. She came as a freshman to Penn State and never left State College. State College feels like home now, and Kristin has been a part of Calvary since she graduated in 2010. Kristin serves as the ThirdPlace Director and also leads Midtown worship. She likes to spend time with friends, write, cook, create art (magazine mosaics are her new favorite), and make up silly songs. She loves speaking in different accents and birdwatching!
ThirdPlace rooted her in community here in State College and surrounded her with positive people who influenced her life after college towards God and not away from Him! She is so glad for the support that this amazing community has offered her over the past five years, and is so excited to be leading this group now. Kristin says, "I so want people to know that God loves them no matter what they have done or where they have been, and that God never gives up on bringing His lost sheep back into the fold."
Fun Facts
What was your most recent purchase?
Tickets to see "The Art of the Brick" in Philadelphia. Seeing thousands of Legos made into replicas of famous works of art and new creations was just so cool!
What type of books do you enjoy reading?
I enjoy reading short stories and Christian allegory.
What is your favorite dream car...and why?
A VW bus with flowers painted on it. I love the way they look and have always wanted one! Plus, it's big enough to hold my friends and perfect for going on a road-trip.
What is your favorite snack?
Anything with butterscotch in it :)
If you could vacation anywhere...where would you go?
Southern France.