Welcome to Calvary Midtown!
Service: 10:00am

Starting September 13: TWO SERVICES
9:00am with kids programming
11:00am
We'd love for you to join us this Sunday at Calvary Midtown! I love the youthful energy, faith and responsiveness that fill The State Theatre on Sunday mornings. Our location makes us accessible and helps us better serve the campus and downtown. Parking is generally free on Sundays (if not, pick up a pass at the Connection Center). Look for our Midtown flags - you can't miss us! We want to help you connect to Christ, each other and your calling.
If you want a glimpse of what it looks like when you arrive, watch the video above, or visit our What to Expect page for a welcome from Lead Pastor Dan Nold. We have fun, safe activities for Kids. I look forward to meeting you! We hope that Calvary Midtown will become your home away from home!
-Pastor Steve Lutz
Are you interested in joining a Life Group?
Click the button below for more information!
Party in the Parklet
Join us for a picnic after the service on Sunday, September 6 from 11:30-2:00 at the Sidney Friedman Parklet (241 S. Fraser St.-formally known as the Central Parklet-see the map below). We'll provide the main dish (Clem's BBQ!). Please bring a dessert (last names A-L) or a side dish (last names (M-Z).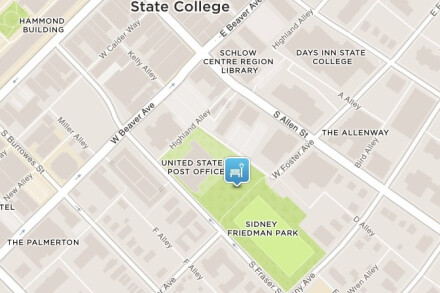 Do you want to get connected?
Join us at CommonPlace (115 S. Fraser St.) after the services on September 13 to hear more about how to get connected to a life group, Elements (college student ministry), ThirdPlace (20's and 30's ministry), and more!