Staff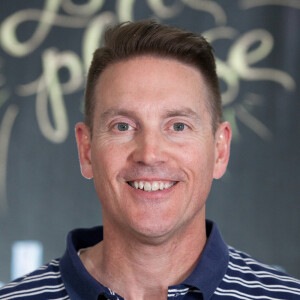 Stacy Sublett
Gathering Pastor, Harvest Fields
office: 814.238.0822 ext. 14

My wife and I, have a heart for adoption. We've added six children (to our 3 originals) to our family between January 2010 and September 2015. That makes nine children (Levi, Josie, Lilly, Isaac, Annabelle, Sadie, Charlie, Jase, and Zuzu.) We're pretty sure that the Lord is done adding to their family. We believe that life is best lived as a team, and we've got a full roster!
What brought you to Calvary?
Kim (my wife) and I have been part of Calvary since 1998. I was originally hired to be the youth pastor, but over the last 21 years, my role and responsibilities have shifted several times. The vision of a Church without Walls is the compelling reason that we've put down roots here.
What is your favorite part of serving Calvary?
I love getting outdoors (these days that's mostly hiking with the kids), coaching baseball, playing guitar, good coffee, good conversations, and chicken. I enjoy leading worship and shepherding the folks at Harvest Fields. My hope is that we can grow smaller, even as more and more people get connected to Calvary. It's not just a catchy church slogan; we all need to have those life-giving connections to Christ, Community, and our Calling. I am absolutely convinced that God wants to transform our community, and that the Church (not just Calvary, but the Church) of the Centre Region has a pivotal role to play in that transformation!